Access My

Done For You Templates

For Tech Nation Visa Endorsement.
Apply With Confidence Knowing Your Documents & Application Are Exactly As They Should Be!

Effortlessly Write Your Personal Statement That Sells You As A Potential Candidate for Endorsement.

Gain Competitive Advantage Over Thousands of Other Applicants.

Save Money, Time & Resources.

Take Advantage Of An Expert In The Field.

Five "Done for You" Templates + Explainer Videos
Only 400 Spots Are Available Worldwide for The Tech Nation Visa Scheme.
Getting endorsed by Tech Nation is The Most Important Process.
Before you can get your 5years Visa, you have to get endorsed by Tech Nation. Their expert will spend about 8weeks going through your documents and it's content to ensure you fit to be endorsed as a "World Leading Exceptional Talent" - this stage isn't easy.
My "done for you" template will take away the stress, hassle and pain involved in not knowing what to include or how to structure your documents and letters.
Stop Worrying
These "done for you" templates will take away the worries involved in writing and strcuturing your documents in the "right way" and allow you to apply fast without wasting time.
Competitive Advantage.
Avoid the mistakes made by most people during their application process that allows Tech Nation refuse to endorse them.
Wining Formula.
After comparing my failed application to my successful one, I understand the nuisances and structure your CV, Personal Statement, Recommendation Letters should entail to put you in a much favorable position.
Insider's Perspective.
Take advantage of my experience of successfully applying and helping others do the same. With only 400 spots per year, this endorsement process can be very competitive.
Five "Done for You" Templates + Explainer Videos
Here's what you will get instantly:
My unique "Done for you" templates in editable Ms Word documents whereby you can "fill in the blanks" with your own details. Each document (CV unique template, Personal Statement unique template, 3 different Expert & Business Recommendation Letter templates are the exact ones I used for my own successful application)
HD explainer videos: You will be able to watch me go through each document, watch and listen to my advise on what to include in each section whilst seeing my own personal example.
Unique Template Notes: These notes properly explains and lists out exactly what you need to be thinking about andu00a0 guides you to ensure you fill out the templates as quickly and easily as possible!
** BONUS ** You will also get access to my other mindset and frame-work videos on types of documents to use as supporting documents.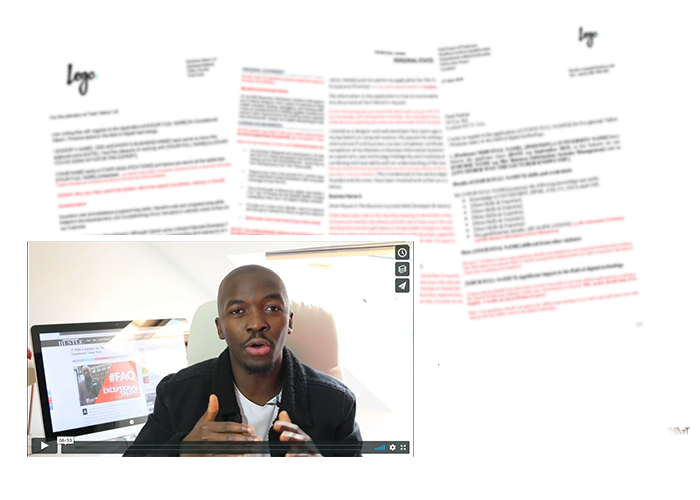 Frequently Asked Questions
If you have any other question or queries, these might help.
Q: Can I Apply Without Your Templates?

Yes you can, my done for you templates are simply a resource that will make the whole application process much easier and enable you apply much faster and ensure your documents, information and qualification are well aligned with what the experts at Tech Nation want to read and also ensure you are placed in a suitable position as a candidate likely to get endorsed.
Being a successful applicant myself, I understand where you are at the moment and know how daunting this process can be, my first application was not endorsed, which means I lost upwards of u00a3300 which could have been saved if I had the an expert guide like this.
Do I believe this templates will be helpful? Yes, I do - they are exact templates I used for my winning application and I have used it to help other applicants.
Q: Will Your Template Guarantee Me a Visa?

A: No, no one can guarantee your endorsement because it lies in the hands of the Home Office. Although the main key points and advantage of my done for you templates is to ensure that you lay out your qualifications, awards, and career experience in the right light, format and in the right way Tech Nation wants to see and read. This puts you in a better position and strenghtens your stage 1 apllication process.
DISCLAIMER:
The contents on this website are not to be taken as legal advice and I strongly recommend seeking advice from a UK Immigration solicitor
Five "Done for You" Templates + Explainer Videos
These templates have not been endorsed or approved by the Home Office or Tech Nation, they are to be used as a guide only and they do not guarantee endorsement.