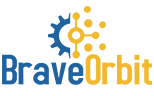 When the founder of Brave Orbit reached out to Presidential Ideas, his exact words were "I would like you to help me create a brand". We started with coming up about to 10 names with available domains and then we went with "Brave Orbit"
With the name out of the way, we started working on brand colours and marketing material designs.
Brave Orbit provides technical solutions for business's architectural and implementation IT needs and challenges, we ensured the whole brand identity and web presence stayed in tune with the brand vision and mission.
Work Done for Client.
Logo | Website Design & Development | New Brand Colour and Typography | Marketing Materials

Creative & flawless execution with a sense of urgency & focus on results is how I'd describe the Presidential Ideas team.