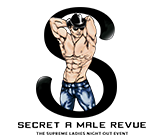 NYC's First Ever Male Revue Show For Women's Charity. Our gorgeous entrepreneurs are businessmen during the day, and about the business of you by night. Your attendance of one of our high end shows directly impacts women's organizations such as women's shelters, shaken baby syndrome activists, and more. So come and explore what secrets we have in store, and have a good reason for doing it!
Explore Secret is not our usual type of clientele but we enjoyed every step of the process creating an outstanding online presence for their brand. As a male Revue show in the heart of NYC, there needs to be some type of feel and persona to their brand and this is what we aimed to achieved with their website.
Work Done for Client.
Website Design | Brand Direction | Print & Marketing Materials

Creative & flawless execution with a sense of urgency & focus on results is how I'd describe the Presidential Ideas team.