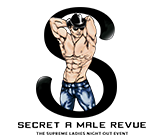 When a brand new New York Male Revue wanted decided to start what is now known as the hottest Male Revue show in NYC hosting the hottest male strippers in the city, and the most well rounded and put together show that you will find anywhere from New York to Los Angeles, they decided to reach out to Presidential Ideas to create a modern, clean and beautiful online presence for their brand.
Before embarking on the design and development, we spent some time looking at the competition, the aim of looking or peeping at the competition is to ensure what we design and come up with is better than what the competition has and also that the final design solves issues that other customers have using the competition's website.
The result is a clean, modern, clean and intuitive website that sets Secret A Male Revue apart from other NYC or LA Male revues. The website hosts a lot of features including a fully functional ticketing system.
Work Done for Client.
Website Design & Development | New Brand Colour and Typography | Graphics Design

Creative & flawless execution with a sense of urgency & focus on results is how I'd describe the Presidential Ideas team.